Hospital Beds / Medical Beds at Wholesale Prices
Refurbished Hospital Beds and Reconditioned Beds for sale
"Wholesale hospital beds" are a way for International hospitals and
large USA bed brokers to get used Hill Rom and Stryker beds at low
wholesale prices. We carry all models of used Stryker and Hill Rom
hospital bed models and professionally pack containers to ensure
beds arrive in good working order. Beds are sold in "as is" working
order. For single bed purchases or for fully refurbished beds with
warranties visit us at www.1hospitalbeds.com for bed prices.
We work directly with the hospitals to ensure you get beds that have
been serviced and are in good working order coming out active patient use.
Current Wholesale Hospital Bed Models and Pricing
Used Hill Rom Hospital Bed Models for sale – minimum 20 units per order
Hill Rom 1000 Series Advance Beds with foam mattress =- $300 each
Hill Rom P1600 Advanta P1600 Beds with foam mattress = $400 each
Hill Rom P3200 Versacare beds with foam mattress = $750 each
Hill Rom P1900 TotalCare beds with foam mattress = $450 each *
Hill Rom P1900 TotalCare Treatment beds with air mattress = $550 *
Hill Rom P1900 TotalCare Sport beds with air mattress = $750 each **
Hill Rom CareAssist hospital beds with foam mattress = $875 each *
* All beds tested and certified in working order – client is able to
come to loading facility 48 hours prior to loading to inspect all beds
Used Stryker Hospital Bed Models and Prices
Stryker Secure 1 hospital bed model with foam mattress = $300 each *
Stryker Secure 2 round rail model bed with foam mattress = $475 each *** #1 selling bed
Stryker Secure 2 square rail beds with foam mattress = $800 each
Stryker Secure 3 hospital beds for sale with foam mattress = $1,200 each
* when available – these models do not come out as frequently in large numbers
** Does NOT include modules – bed needs 2 modules – add $150 each per module  unit
*** Our #1 selling wholesale bed model – normally includes bed exit alarm and / or scale
Wholesale Hospital Bed Ordering Policy
All hospital bed orders must be paid in full before containers are loaded
and we require a minimum order of 25 units to get pricing shown below.
Depending on the time of the order and the model of the bed
will determine where the beds come from. Since we work with
hospitals all over the USA we cannot determine which state your bed order
will be filled until you have placed the order. Hospital bed customers are
welcome to come onsite to test beds and watch the loading process to
ensure they get the beds in good condition.  Hospital beds are sold
in "as is" working order without a warranty for the wholesale prices
reflected below.
Buying Hospital Beds Wholesale – Questions and Answers
How Do I know I am not getting broken bed units?
Hospital beds must work in order to lower them down to fit into a container. We
scrap all non working beds since they will not load properly and are dangerous to move.
We know that 10 to 20% of beds have mechanical issues and we remove those from bed inventory and price the beds accordingly to account for this. Clients are free to come
onsite to our loading locations to see beds tested before loading. Normally done 1-3
days prior to container load time.
I Want Hospital Bed Parts
The best way to buy parts is to buy extra hospital beds. 1 bed can provide a host of parts
for the hospital bed inventory including wheels, motors, rails etc. It is much cheaper
to buy extra beds for parts than to buy the parts individually.
How Many Beds Fit Into a Container?
30 beds will fit into a 20 foot high cube container and 60 units will fit into a 40 foot container.
Container must be high cube to ensure the mattresses will fit.
Who Takes Care of Shipping of Hospital Beds?
The shipping is the responsibility of the buyer. We use ABF Freight and other large shipping
companies for quotes however the cost must be paid direct to shipper from the buyer. It
is best to find local shipping companies in your area as a first place to get rate quotes.
What is the Shipping Cost of Shipping Hospital Beds Internationally?
Normally the costs will range from $3,500 to $6,000 per container depending on the country
the beds are being shipped to and the size of the container. This cost should be figured in when
looking at purchasing beds. Normally $75 to $150 per unit is a good amount to budget howver
it is the responsibility of the BUYER to get exact quotes since every country has different
taxes and import fees that will need to be included in the total shipping cost. Contact us
for a list of shipping companys.s

Beds in Stock – One Bed at a Time Sell Price – refurbished
If you are looking to purchase more than 5 hospital beds for your
medical center, nursing home, nursing school, hospital, surgical center or
special needs facility you have come to the right place. We sell hospital beds
by the hundreds and are one of the largest hospital bed dealers in the USA.
We sell in all bed sizes in San Diego including 1 bed sales and we deliver
anywhere in Southern California including Los Angeles, Orange County,
Riverside County and we can ship anywhere in the USA. If you are
looking for just one bed visit www.1hospitalbeds.com.
We also have inventory in the Chicago area and in Virginia.
Email us or call what you are looking for and we can provide a
hospital bed price quote at 858-263-4894 or at hospitaldirectmedical@gmail.com
WHOLESALE HOSPITAL BEDS IN STOCK CLICK HERE
Get a list of current hospital beds for sale in "As is" working
condition direct from hospital or nearby warehouse locations
around the USA. If you have beds for sale email us at
hospitaldirectmedical@gmail.com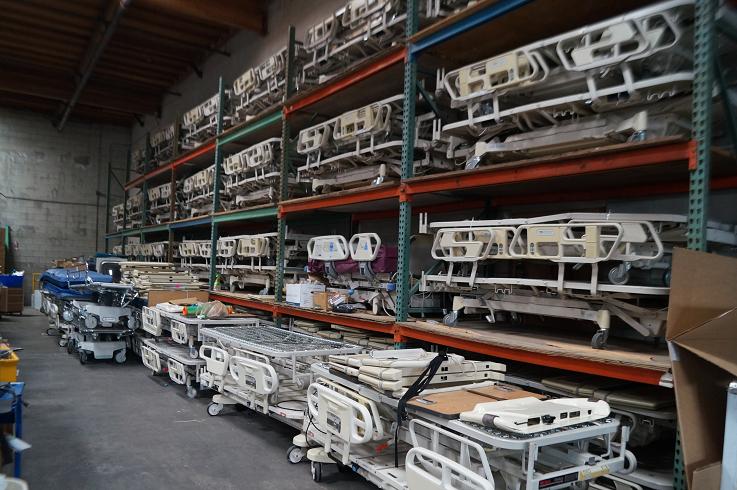 Hospital beds at wholesale prices warehouse San Diego (above)

 Hospital beds are the #1 selling item in the medical business and
there are many ways and places to buy hospital beds and medical
beds for wholesale bulk purchases. Buying direct from hospitals
and medical brokers buying in bulk is the cheapest way to
get beds at wholesale prices.
Wholesale hospital beds for sale around the USA in bulk.
* Must take all beds at location to get posted price
* Must set up and make all shipping arrangements
*  Minimum Purchase 10 beds
* Email us or call for bed pricing at hospitaldirectmedical@gmail.com
or call us at 858-263-4894 or 858-652-1259
WHOLESALE HOSPITAL BEDS NOW AVAILABLE BY STATE
WE GET NEW INVENTORY EVERY WEEK – CONTACT US
DIRECT FOR CURRENT HOSPITAL BED INVENTORY
Hospital Beds Are ALWAYS COMING OUT all over the USA – contact us
for current locations. These are some of our warehouse locations
with hospital / medical bed inventory including stretchers and gurneys.

Chicago Illinois
40 Hill Rom Advance Beds
10 Hill Rom P1400 Century Beds
15 Hill Rom P1600 Advanta beds
80 Hill Rom CareAssist Beds
120 Stryker Secure 2 Beds
Virginia
90 Hill Rom Centra and Century Beds
120 Advance P1000 Beds
120 Advanta P1600 Beds
90 Stryker Secure 2 beds
180 Hill Rom P3200 Versacare Beds
San Diego California
70 Hill Rom Advance Beds
40 Hill Rom 840 Centra beds
30+ Hill Rom Advanta P1600 beds.
10 Hill Rom TotalCare Sport beds
3 Hill Rom CareAssist beds
1 Hill Rom Affinity 3 bed
10 Stryker Secure 1 beds
2 Stryker Zoom beds
2 Stryker Secure 2 beds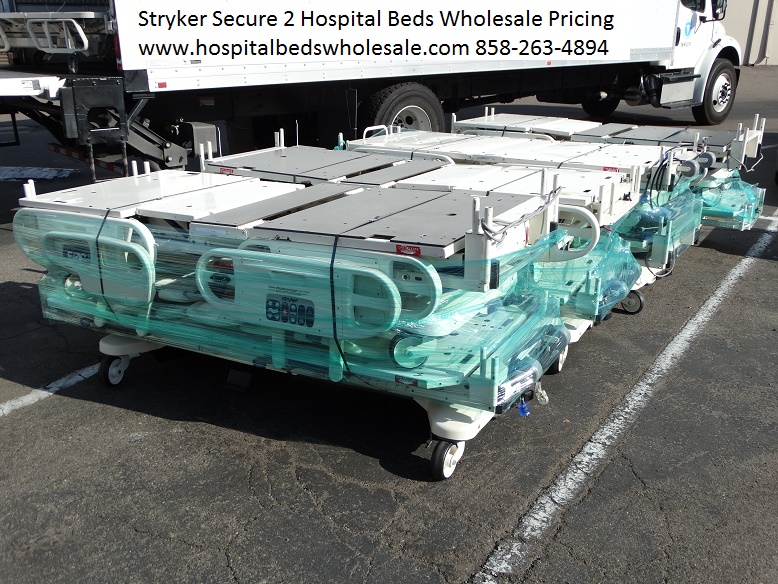 Stryker Secure 2 hospital beds sold at wholesale prices
Gurneys and Stretchers
Texas – 50 Stryker gurneys and stretchers – all 2003 and newer
* All beds ready for inspection and purchase –
For more information on hospital beds on this website
call 858-731-7278 or email us at hospitaldirectmedical@gmail.com
This website is a source for wholesale bulk purchases only.
When buying directly from hospitals you get a cheaper price but
you also will normally get a few beds that will need some minor
work and repair. If you need all your beds "patient ready", then
you need a broker to go pick up the beds, go through them
and repair them. That is why beds in bulk sell cheap and refurbished
beds and reconditoned beds are more expensive.
The largest cost in beds comes from hiring labor and trucks to
pick up and move beds and then store and go through them.
If you get the beds direct from hospitals you get the cheapest price.
We can also sell hospital beds refurbished and reconditioned.
Visit www.1hospitalbeds.com
How Many Beds Fit in a 40 Foot Container?
Normally 55-60 beds will fit in a 40 foot metal container.
IT MUST BE A HIGH CUBE CONTAINER TO FIT MATTRESSES
Can you help with shipping?
Yes we work with domestic and international shipping companies
around the USA that can ship by truck and by ocean.
What Does it Cost to Ship a 40 Foot Container Overseas / International?
The average prices range from $4,000 – $5,000 per 40 foot container –
CONTAINERS MUST BE HIGH CUBE CONTAINERS to fit mattresses.
Costs can vary depending on location and import duties etc…
A 40 foot container can hold up to 60 beds depending on the model.
Hospital Direct Medical Equipment Inc.
4901 Morena Blvd. #600
San Diego, CA 92117
Phone: 858-263-4894
Phone: 858-731-7278
Fax: 858-263-4897
hospitaldirectmedical@gmail.com
Wholesale hospital beds, medical beds and gurneys from
the USA shipped everywhere in the world.
We can also sell beds refurbished from Los Angeles including Hill Rom Advance Series
Beds Starting at $1,400.00 each and Hill Rom Advanta Beds at $1700.00 each
Email us for pricing and availability at hospitaldirectmedical@gmail.com
Hospital Direct Medical Equipment Inc.
4901 Morena Blvd. #600
San Diego, CA 92117
Phone: 858-263-4894
Phone: 858-731-7278
Fax: 858-263-4897
hospitaldirectmedical@gmail.com
www.1hospitalbeds.com
USA MEDICAL BEDS FOR SALE BULK – Full Electric hospital bed dealer selling used
and refurbished hospital beds from Stryker, Hill Rom and other manufacturers at
wholesale / bulk pricing.
Our #1 selling hospital bed models are the Hill Rom Advance Series hospital beds,
Hill Rom Advanta beds and the Stryker Secure 2 bed models. The Stryker Secure 2
beds normally come with a bed exit alarm and scale making them popular
for hospitals.
These hospital beds are very reliable, easy to work on, have low cost parts, are
very reliable and are one of the best made beds ever made by Hill Rom.
These 6 function beds also have a "chair" position which makes them popular and
they are lighter than other models, easy to stack, ship and they can be used in
nursing homes, nursing schools, medical centers, hospitals and residential homes.
We can refurbish the hospital beds or sell them direct from the hospital for
a cheaper price in "as is" condition. We provide a wide range of hospital bed
refurbishment. Refurbishment increases price because the beds cannot be
packed and shipped direct from hospital, they have to be packed and shipped
to a warehouse and then repacked a second time. Much of hospital bed prices
are based on the logistics of picking up and shipping beds. The fewer the times
they get shipped the lower the price.
HOSPITAL BED PRICE QUOTES –
Need a quote for buying a hospital bed?
Contact us at (858) 731-7278 or email us at
hospitaldirectmedical@gmail.com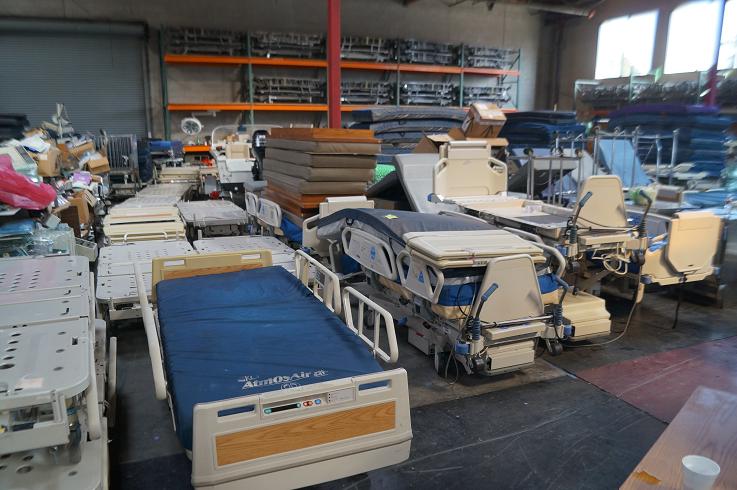 Hospital Direct Medical Equipment Inc.
4901 Morena Blvd. #600
San Diego, CA 92117
Phone: 858-263-4894
Phone: 858-731-7278
Fax: 858-263-4897
hospitaldirectmedical@gmail.com
CONTACT US / More Information on hospital beds in stock.
San Diego hospital beds for sale at wholesale prices – call 858-263-4894 for bed models and current inventory. Email us questions at hospitaldirectmedical@gmail.com
Hospital bed broker buying and selling used and refurbished hospital / medical beds
to medical dealers, International medical brokers and companies and direct to
hospitals, medical centers, clinics and skilled nursing and senior care facilities
around the world.
CONTACT US HERE



CLICK BUTTON TO OPEN WINDOW
Hill Rom TotalCare Sport ICU / Intensive Care Hospital Beds for Sale – now in stock
10 units fit in one 40′ container. These beds are made to treat and prevent bed sores
and skin ulcers and have low air loss upgrade and also auto patient turning and
"percussion vibration" feature for patients with upper respiratory congestion or
ailments like pneumonia.
ORDER HOSPITAL BEDS CALL 858-263-4894 or
Email us at hospitaldirectmedical@gmail.com